---
World of WarCraft : the Burning Crusade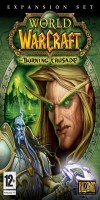 Slovo na začátek:
-jen bych chtěl podotknout že jsem hru zatím neměl možnost hrát:(, takže tato recenze, nebo přiblížení hry je výtažek ze všech různých recenzí BC ale převedeno do mého stylu psaní;), a samozřejmě zkrácení….(ale to nemění hodnotu tohoto článku, možná ba právě naopak je vidět že jsem ho napsal já a ne jen okopíroval z jiné stránky, prostě jsou tu dostupné informace:)…

Pár slov o hře(novinky ap):
-Nejen že je o deste ševelů navíc, řeknete si že alespoň si doplním talentový bod … tam kde mi chybý, ale omyl strom se ještě více předělal a rozvětvil! Takže přibudou nové dovednosti !

- profese Jewelcrafting - Šperkař můžete vyrábět prstýnky, náušničky, náhrdelníky prostě všemožné ozdoby na tělo . Můžete také dělat speciální sošky, které například přidávají grupě HP,apod… Ale Hlavně věc která je úplně zásadní a velmi důležitá – spracovávat drahokamy do formy, která lze pak vložit do socketu. Ano s expanzí se objeví socketovatelná výbava, tak jako to bylo v Diablu. Budete mít vestu se třemi sockety, kam si můžete nasázet drahokamy co zvyšují útočnout sílu, apod… Šperkař potřebuje k výrobě drahokamy. Získá je jednoduše – použije dovednost "Prospektor" na pět kusů horniny, a jako výsledek vypadne drahokam a nějaký ten odpad (a hornina zmizí). Věci jako arcane crystal se budou moci dále získávat při kopání, ale šperkař je dokáže získávat jako na běžícím páse, jen mu dodat těch několik tun horniny na prospektování.

-další důležitá věc HONOR sistem jak je deď v klasickém WoW asi nejspíš zmizí-vymaže se nebo bude fungovat jen jako doplnění….na místo něj nastoupí nový sistem, Mincovní sistem takže bude to nějak tak že za zabytí protivníka nebo asi více dostanete zvláštní minci, no a za tyto mince si pak můžete ve vaší základně pořídit moc pěknou výbavičku.

-nový způsob dopravy---o tom jsem moc nezjistil…jen to že to bude něco jako mount ale nejspíš ovládaný vámi samotnými!....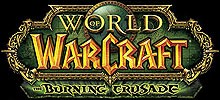 Na co se těšit co datadisk přináší:
-max. úroveň postav až 70 lvl
-dvě nové rasy – Blood Elf a Dranei
- nové počáteční zóny (Quel`Thalas,…)
- nový kontinent Outland, kam se lze dostat portálem (Dark Portal)
- v Outland, v Azerothu i jinde spousta nových vysokoúrovňových dungeonů
- v Outlandu nový způsob "letecké" přepravy
- celou řadu nových a nebezpečných příšer včetně mocných bossů přímo v krajině
- stovky nových úkolů
- stovky nových předmětů
- novou profesi: Jewelcrafting (vylepšování předmětů pomocí drahokamů)
- předměty vylepšené drahokamy (tzv. "Socketed")
- a ještě mnohem, mnohem víc.


Co mají za povolání nové rasy:


- Hordácký Elfik může být : Paladin, Hunter, Rogue, Paladin, Mage, Warlock

- Alijenční Darnei zase může být : Warrior, Paladin, Hunter, Paladin, Shaman, Mage


PS:Vyšla i speciální sběratelská edice (toto už je opravdu zkopírované z www.cdprojct.cz):

Balení obsahuje:
World of Warcraft: The Burning Crusade na CD i DVD
World of Warcraft: The Burning Crusade Behind-the-Scenes DVD
The Art of World of Warcraft: The Burning Crusade
Art Book – vázaná kniha plná ilustrací
Exkluzivní společník pro vaši postavu: netherwhelp
Dva úvodní balíčky karet World of Warcraft spolu s exkluzivními sběratelskými kartami Podložka pod myš s mapou země Outland CD se soundtrackem World of Warcraft: The Burning Crusade
Na více než dvouhodinovém DVD ze zákulisí hry se můžete těšit na rozhovory s vývojáři, kteří popisují všechny aspekty tvorby The Burning Crusade, stejně jako na ukázky a animace ze hry či na diskuse z BlizzConu.
Majitelé sběratelské edice mohou svá dobrodružství z virtuálního světa přenést i do světa reálného. Součástí balení jsou totiž dva úvodní balíčky nových sběratelských karet World of Warcraft – jeden z nich je určen pro vás, druhý můžete někomu věnovat.
Navíc získáte tři exkluzivní sběratelské karty, které si můžete rovnou přidat do balíčku, nebo je vyměnit s jinými hráči.
Sběratelská edice dále obsahuje exkluzivního společníka pro vaši postavu, kterého vám jistě budou ostatní hráči závidět. Na obrázku vidíte dráčka zvaného netherwhelp, potomka draka, na jehož hřbetě budete brzy po novém světě létat.
Dále na vás čeká CD se soundtrackem z datadisku, nádherná ilustrovaná kniha s grafickými návrhy (concept art) a podložka pod myš s tématem Outlandu
– to všechno najdete ve sběratelské edici World of Warcraft: The Burning Crusade.


Různé adresi na detailní recenze:
Tiscali games I.

Tiskali Games II.

Doupě.cz

Bonus Sweb
>>Marcus Oplus
Komentáře
Přehled komentářů